Stanford Univ. Medical Center to jointly build new hospital
Updated: Wed Mar 9, 2016
A memorandum of cooperation has been signed between FAHZU and Stanford University Medical Center of the United States on a joint venture to build a top-grade new hospital in Hangzhou, east China's Zhejiang Province.
The agreement was reached on Tuesday during a video conference across the Pacific and
was based on a partnership that has lasted more than three years between the two sides.
According to the agreement, the Stanford medical center will "fully participate" in the building of the new hospital, which is already under construction in Hangzhou City's Yuhang district and is scheduled to go into operation in 2019.
The joint venture hospital will be built into a top-grade medical facility that adopts the most advanced American medical and healthcare standards, said FAHZU president Wang Weilin.
The Stanford medical center's CFO David Connor and deputy president Mark Tortorich expressed a "great expectation" for the new hospital, and said their center gives a high priority to the cooperative project.
The Stanford center is one of the topranking medical facilities in the United States, and is particularly strong in transitional medicine, which is a rapidly growing discipline in biomedical research and aims to expedite the discovery of new diagnostic tools and treatments by using a multi-disciplinary and highly collaborative approach.
The Stanford center is also a leader in providing medical and healthcare services through the Internet, Noting smooth flow of visual and aural information during the video conference,FAHZU president Wang said that two sides could further their cooperation to develop online joint consultation of doctors to treat difficult and complicated cases.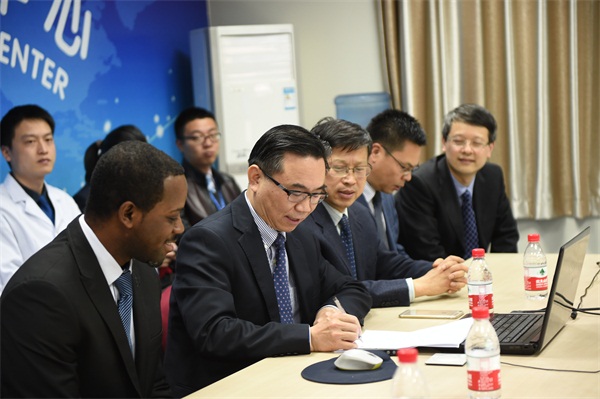 President Wang Weilin of the FAHZU signs the memorandum of cooperation at the Hospital's International Telemedicine Center during a video conference held on Tuesday (Beijing time) with Stanford University Medical Center of the United States.